Volkswagen Golf Service & Repair Manual: Removing and installing windscreen
Note

| | |
| --- | --- |
| | The removal of a bonded window is described using the Removal kit for flush bonded windows -V.A.G 1474 A-. |

| | |
| --- | --- |
| | Alternatively, you can also use the cutting tool for bonded windows -VAS 6452-. |

| | |
| --- | --- |
| | Another alternative is to use the window removal set -VAS 6888-. |

Special tools and workshop equipment required

| | |
| --- | --- |
| | Removal kit for flush bonded windows -V.A.G 1474 A- or Removal kit for flush bonded windows -VAS 6452- |

| | |
| --- | --- |
| | Suction lifter -V.A.G 1344- |

| | |
| --- | --- |
| | Cutting tool -V.A.G 1351- |

| | |
| --- | --- |
| | Windscreen removal kit -V.A.G 1755- |

| | |
| --- | --- |
| | Cartridge gun -V.A.G 1628- |
| | |
| --- | --- |
| | Cartridge heater -V.A.G 1939- |

| | |
| --- | --- |
| | Electric cutter -V.A.G 1561 A- |

| | |
| --- | --- |
| | Cutting blade -V.A.G 1561/2- |

| | |
| --- | --- |
| | Cutting blade -V.A.G 1561/8- |

| | |
| --- | --- |
| | Cutting blade -V.A.G 1561/19- |
| | |
| --- | --- |
| | Double cartridge gun -VAS 5237- |

| | |
| --- | --- |
| – | Remove A-pillar upper trims on left and right → General body repairs, interior; Rep. gr.70. |

| | |
| --- | --- |
| – | Remove left and right sun visors → General body repairs, interior; Rep. gr.68. |

| | |
| --- | --- |
| – | Remove interior mirror → General body repairs, interior; Rep. gr.68. |

| | |
| --- | --- |
| – | For vehicles with front camera for driver assist systems -R242- remove front camera → Electrical system; Rep. gr.96 |

| | |
| --- | --- |
| – | Lower moulded headliner in area of windscreen → General body repairs, interior; Rep. gr.70. |

| | |
| --- | --- |
| – | Moulded headliner can now be lowered sufficiently to allow windscreen to be cut out without damage occurring to moulded headliner. |

| | |
| --- | --- |
| – | Removing plenum chamber cover → Chapter. |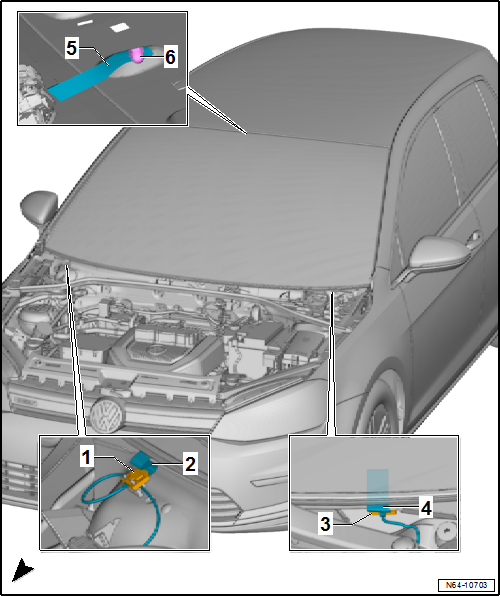 On vehicles with heated windscreen
| | |
| --- | --- |
| – | Unscrew hexagon nut -6-, and bond line -5- to windscreen. |
| | |
| --- | --- |
| – | Disconnect connectors -1 and 3-. |
| | |
| --- | --- |
| – | Bond lines -2 and 4- to windscreen. |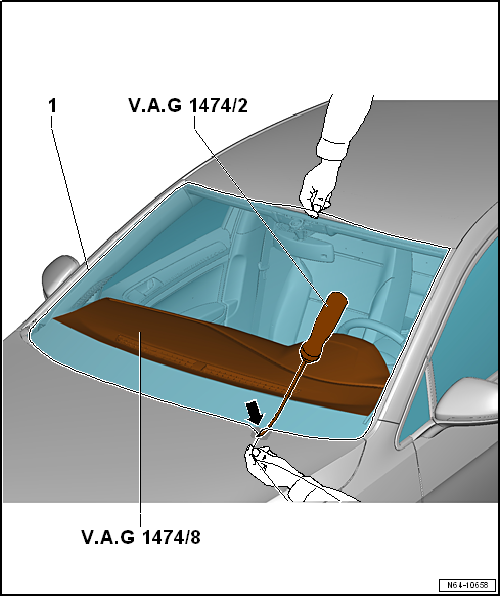 | | |
| --- | --- |
| – | Slide suitable covering film -V.A.G 1474/8- between windscreen and dash panel. |
| | |
| --- | --- |
| – | Pull cutting cord -1- through adhesive sealing material into inside of vehicle using awl -V.A.G 1474/2-. |
| | |
| --- | --- |
| – | Secure inside end of cutting cord against falling out using Pull toggle -V.A.G 1351/1--3-. |

| | |
| --- | --- |
| – | Insert cutting cord -2- into window flange using tube -1-. |

| | |
| --- | --- |
| – | Place cutting cord around the front windscreen. |

| | |
| --- | --- |
| – | Ensure that cutting cord lies under front windscreen in corners. |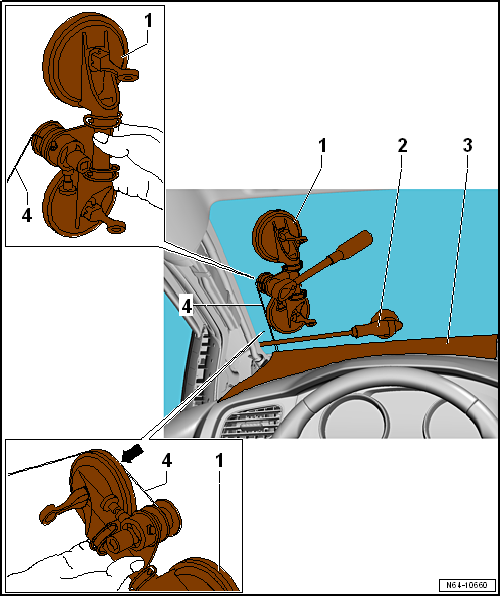 | | |
| --- | --- |
| – | Attach the ends of cords -4- on removal kit for flush bonded windows -VAS 6452--1-. |
| | |
| --- | --- |
| – | Put cutting cord around suction cups of reel device -arrow-. |
| | |
| --- | --- |
| – | Use plastic wedge -2- to press cutting cord against windscreen while cutting in order to have clearance at window flange and dash panel. |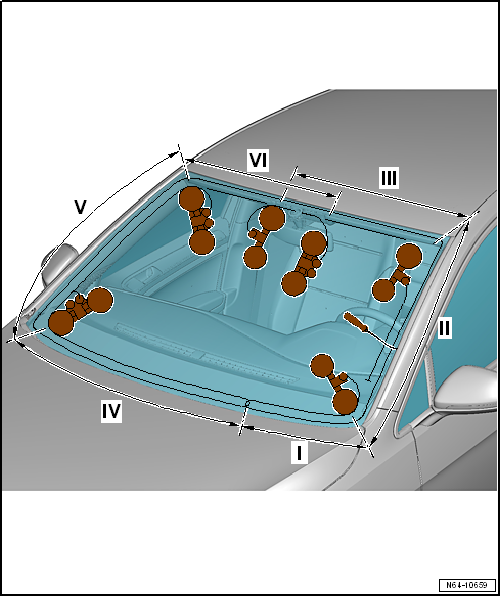 | | |
| --- | --- |
| – | Position removal kit for flush bonded windows -VAS 6452- at lower corners of windscreen. |
| | |
| --- | --- |
| – | Change permanently position of left removal kit for flush bonded windows -VAS 6452- from "position I"to "position III" and cut windscreen free. |
| | |
| --- | --- |
| – | Change permanently position of right removal kit for flush bonded windows -VAS 6452- from "position IV"to "position VI" and cut windscreen free. |
| | |
| --- | --- |
| – | Use two suction lifters -V.A.G 1344- to lift the windscreen from the vehicle. |

Note
| | |
| --- | --- |
| | The windscreen as a genuine replacement part is delivered with spacers. |
| | |
| --- | --- |
| | In vehicles without panorama sliding sunroof, the spacers -1- remain installed. |
| | |
| --- | --- |
| | In vehicles with panorama sliding sunroof, the seal -4- must be installed. |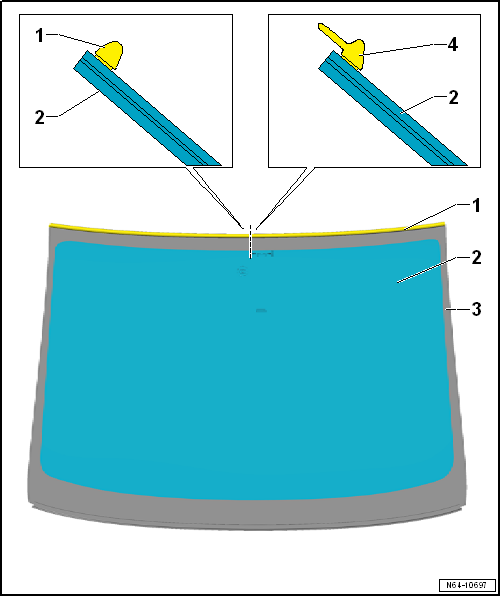 | | |
| --- | --- |
| – | Separate spacers -1- with a suitable tool. |
| | |
| --- | --- |
| – | Bond seal -4- to edge of windscreen. |
| | |
| --- | --- |
| – | For vehicles with front camera for driver assist systems -R242- install front camera → Electrical system; Rep. gr.96 and calibrate front camera → Running gear, axles, steering; Rep. gr.44. |

| | |
| --- | --- |
| – | Preparing old undamaged window for glazing → Chapter. |

| | |
| --- | --- |
| – | Preparing new window for glazing → Chapter. |

| | |
| --- | --- |
| – | Preparing body flange for glazing → Chapter. |

| | |
| --- | --- |
| – | Installation instructions → Chapter |

| | |
| --- | --- |
| – | Minimum curing period → Chapter |
Removing broken windscreen

Removal of a broken windscreen is performed in the same manner as the removal a broken rear window → Chapter.
1 - Windscreen Removing and installing → Chapter 2 - PUR adhesive sealant Cross section of bead: -width b- = 7 m ...
Other materials:
Removing and installing rear side airbag crash sensor -G256-/-G257-
Removing WARNING Observe safety instructions for pyrotechnic components → Chapter. ...
Removing and installing lock carrier trim
Special tools and workshop equipment required Removal lever -80 - 200 Removing Vehicles with towing bracket, saloon ...
Restrictor
The restrictor creates a restriction. This restriction limits the flow, separating the high-pressure and low-pressure sides in the refrigerant circuit. Upstream of the restrictor, the refrigerant is warm due to the high pressure. Downstream of the restri ...
© 2016-2022 Copyright www.vwgolf.org