Volkswagen Golf Service & Repair Manual: Removing and installing window channel
Note

| | |
| --- | --- |
| | The removal and installation sequence is only for the left window channel. Removal and installation of the right window channel are similar. |

| | |
| --- | --- |
| | Do not bend window channel when removing! |
| | |
| --- | --- |
| – | Remove inner window slot seal → Chapter. |
| | |
| --- | --- |
| – | Remove window slot outer seal → Chapter. |
| | |
| --- | --- |
| – | Peel sealing lip of window channel -1- off the door flange -2- from the inside -arrow e-. |
| | |
| --- | --- |
| – | Pull window channel -1- out of mountings on door -arrows c-. |
| | |
| --- | --- |
| – | Pull window channel of front metal flange -arrows a- and in area of overlap out of holding device -arrow b-. |
| | |
| --- | --- |
| – | Pull window channel -1--arrows c- off flange -2- uniformly all around it. |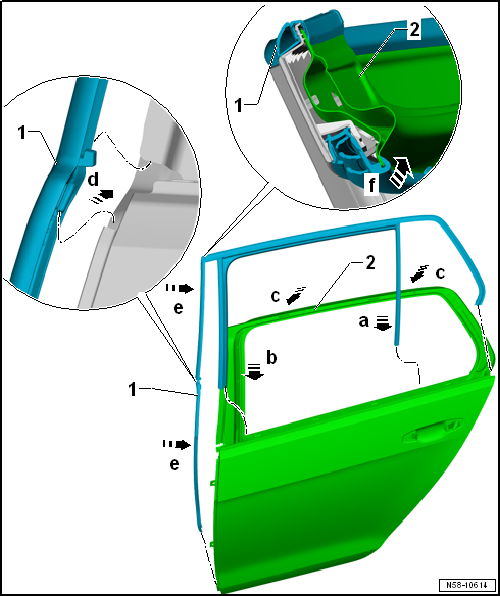 | | |
| --- | --- |
| – | Spray window channel with soapy water to facilitate installation. |
| | |
| --- | --- |
| – | Insert window channel -1- into mountings on door -arrows a and b-. |
| | |
| --- | --- |
| – | Insert window channel at front flange into holding device -arrow d- and fit onto metal flange -arrows e-. |
| | |
| --- | --- |
| – | Push window channel -1- from rear towards front onto door flange -2--arrows c-. |
| | |
| --- | --- |
| – | Fold sealing lip of window channel onto door flange from the inside -arrow f-. |

Note
To prevent wind noise, ensure window channel -1- seats evenly when installing.
Further installation is performed in the reverse order of removal.
Special tools and workshop equipment required Torque wrench -V.A.G 1331- ...
Note The core of the window slot outer seal is a metal insert. If it is bent o ...
Other materials:
Identification of Denso heater and air conditioning unit
Note Pay attention to correct assignment when replacing components. The combination of different makes of component is not permitted → Electronic Parts Catalogue. – Remove left centre console trim ...
Vehicle-specific weight ratings
First read and observe the introductory information and safety warnings All data in the official vehicle documents take precedence over these data. All data in this manual apply to the basic German model. The vehicle data sticker in the service schedule and the official vehicle documents sho ...
Assembly overview - oil filter/oil pressure switch
1 - Oil filter Remove and install with oil filter tool -3417-. Before installing, lightly coat seal with clean engine oil. 20 Nm See note → Anchor 2 - Oil pre ...
© 2016-2022 Copyright www.vwgolf.org